Laurel Falls
Great Smoky National Park
This was the first hike we decided to take on our grand Tennessee vacation. The book I had told me that it was going to be pretty busy, but when we passed two filled parking lots going to that trailhead, we could tell it was going to be an expressway.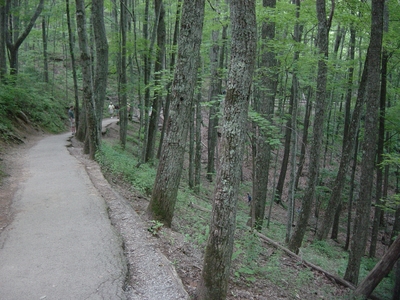 This being my first time out in the woods in the south during June since A.I.T. at Fort Knox Kentucky in 1990, it was hot, sticky and the air was thick in stale, moist air. That summer in 1990 was blistering, filled with mornings so early that they feel like an extension of the day before and you were getting a catnap in between long shifts.
The grandparents decided to go grocery shopping while the rest of us went on the hike. We weren't expecting anything in so far as difficulty with the hike, but we were not expecting the weather we ran into. As we passed multitudes going both up and down the trail, I kept noticing the air getting stiller and the sky getting darker. I remembered from previous times in the south that this was not a good thing. I remember asking Linda what time it was and her replying that it was noon.
"Noon?" I asked. "Pacific or Eastern?"
The puzzled look on her face pretty much told me everything I needed to know. It was three in the afternoon, prime for the first cracks of a nice thunderstorm. Southern Style.
You can see from the pictures how dark it was starting to get. I heard the first small drubbing sound from the canopy of trees above us as rain started to sprinkle. I noticed the drops of rain were slightly smaller than most bouncy rubber balls you get from $.25 Cackling Chicken/Egg Prize machines. People began turning around in droves to the point where there was a veritable exodus off the trail.
Off in the near-distance, I heard a sharp crack of thunder. Tanis doesn't like thunder...at all. So he got himself a backpack trip up the rest of the trail. Tyler, not to be outdone, hopped onto someone's shoulders also.
The trail itself was nicely paved and had a super easy grade to climb up. This didn't keep the boys from getting tired and wanting more piggy-back rides. The rain came on and off, never really getting very bad for about ten minutes while we made the last parts of the hike. We were starting to get a bit damp at this point, but we figured we were close to the top and there really wasn't any place to stop and rest. May as well head to the top so we can see this sixty-foot waterfall at the end of the trail.
As we got closer, the tree canopy started thinning out, people were hiding in eves of large rock out-croppings, running back down the trail as fast as their pudgy, southern legs would take them.
By the time we got to the waterfall, we were standing in one also. The rain had turned into a nice southern downpour. I put my feet into the waterfall and didn't feel any difference in the amount of water I had dumping on me. We were all so soaked, it didn't make any difference anymore so we stopped trying to avoid it. We climbed up the "Sixty Foot" (more like twenty-five to thirty feet to a little bar and then anothe fifteen foot drop, not the most inspiring ending) waterfall a ways and stared...through the pouring rain...at a little waterfall.
The hike back was a little dryer and completely devoid of other human beings. Rick and I drove back in our underwear rather hoping for a police officer to pull us over so we could explain exactly what was going on here.
Isn't it odd to think that in the south, if you are arrested for sodomy that they are going to put you in a cage with another man who is going to sodomize you?
--Robin Williams